BREAK THE CYCLE
Removing Financial Barriers to Care
Cost of Care Increases
Forces employees to choose between their physical and financial wellness
Health Insurance Premiums Rise
Naturally when the cost of care increases, health insurance premiums continue to rise
Cost Sharing & Member OOP Increases
Employees end up paying more out-of-pocket every year
Unintended Consequences
$200B in uncollected payments to providers, delayed or foregone care, and more
"I wish we would have had you guys four years ago when we changed to our HSA plan! It really would have helped a lot of people with their deductible."
Megan B.
HR - PUBLIC SECTOR
"It has helped me a few times when I have had an unexpected vet and medical bills. It's one of my favorite benefits that my employer offers!"
Robert C.
PAYTIENT USER
HOW IT WORKS
Swipe. Click. Split.
Employees swipe their Paytient card to pay for any out-of-pocket medical, dental, vision, mental health, or veterinary expense.
They click the notification that appears on their home screen.
Then, they split the transaction into an easy payroll-deducted payment plan over the amount of time they choose - up to 12 months.
No interest. No fees. No credit check.
No, really.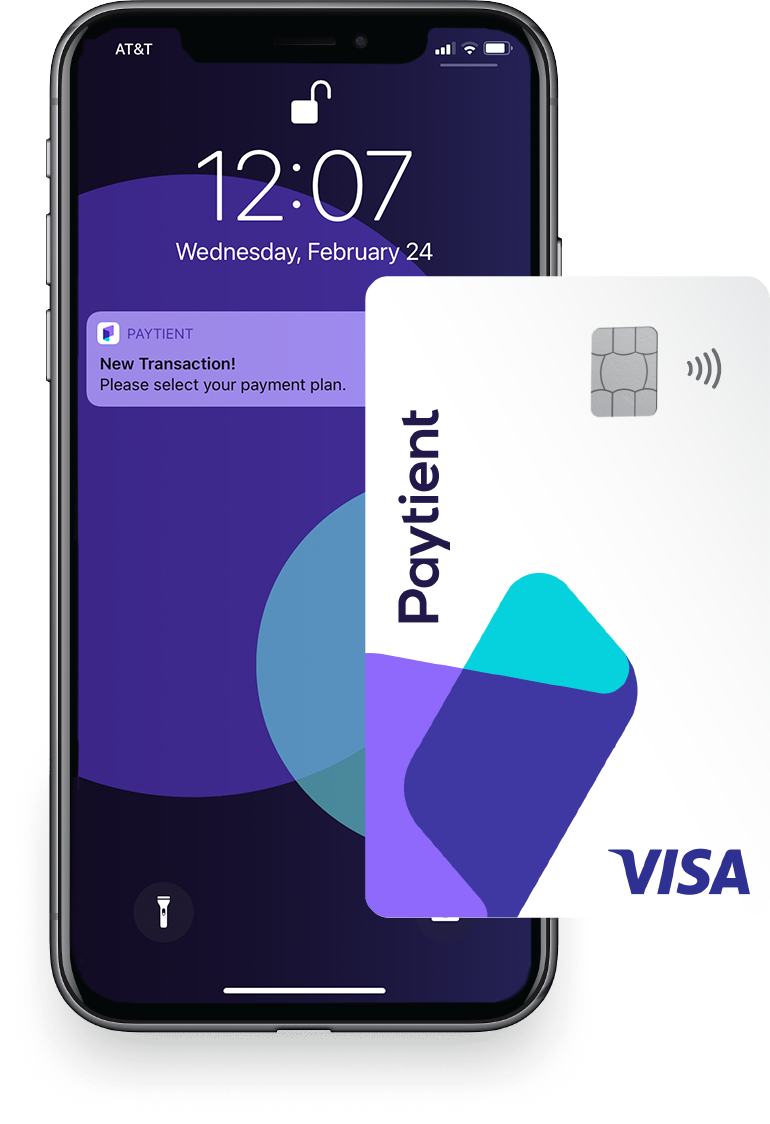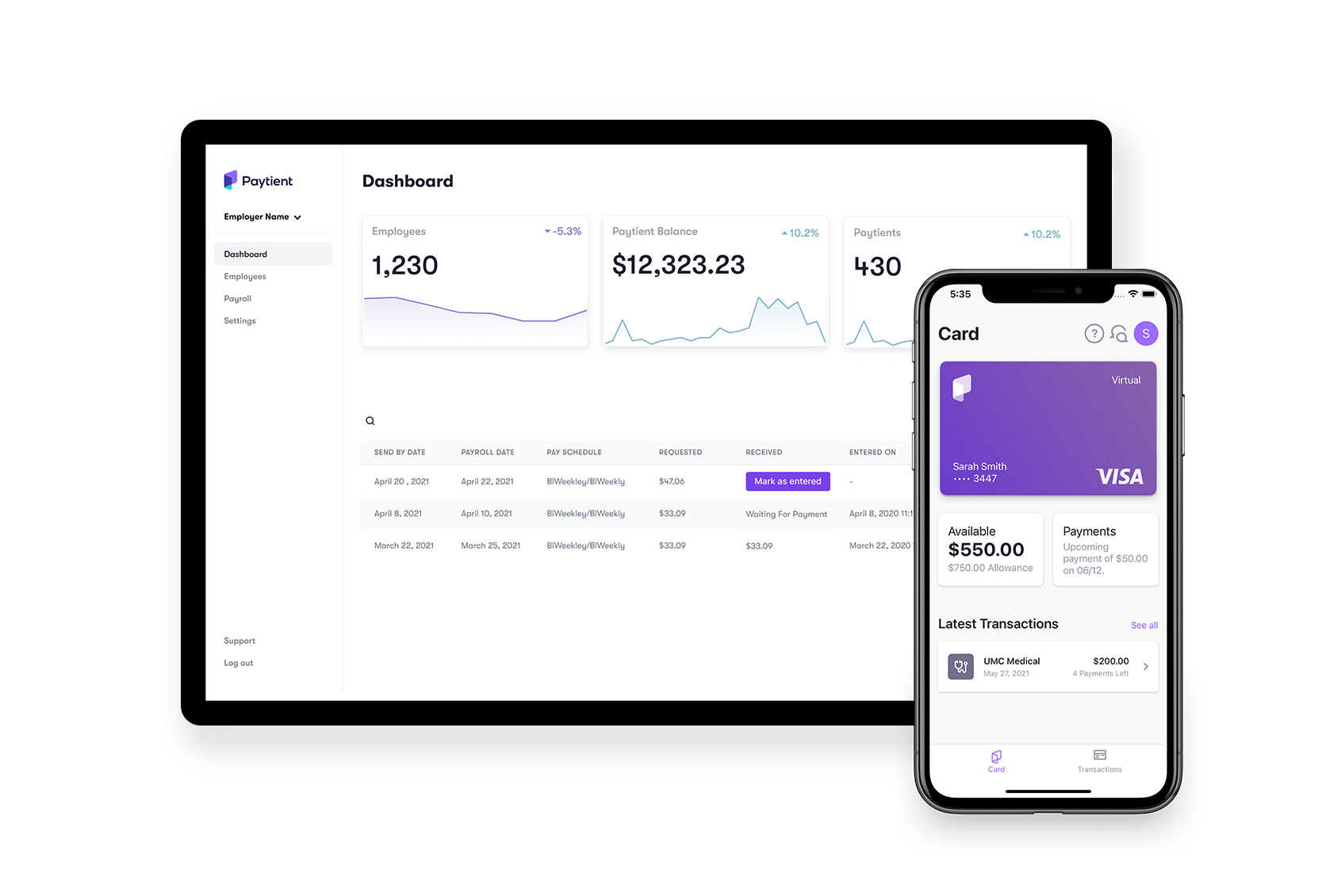 Effortlessly generous
Manage which team members have Paytient in their wallet, and review usage reports right from our dashboard.
Automated deduction process
We handle and recoup any borrowed funds after an employee leaves
Peace of mind in your employees' wallets
With access to funds instantly, Paytient brings your employees access to care earlier. They choose how they'd like to pay back what they use.
Make plan design changes healthier for your team
Employees gain access to care instantly
An "All-in-One" benefit for Medical, Dental, Vision, Mental Health, and Veterinary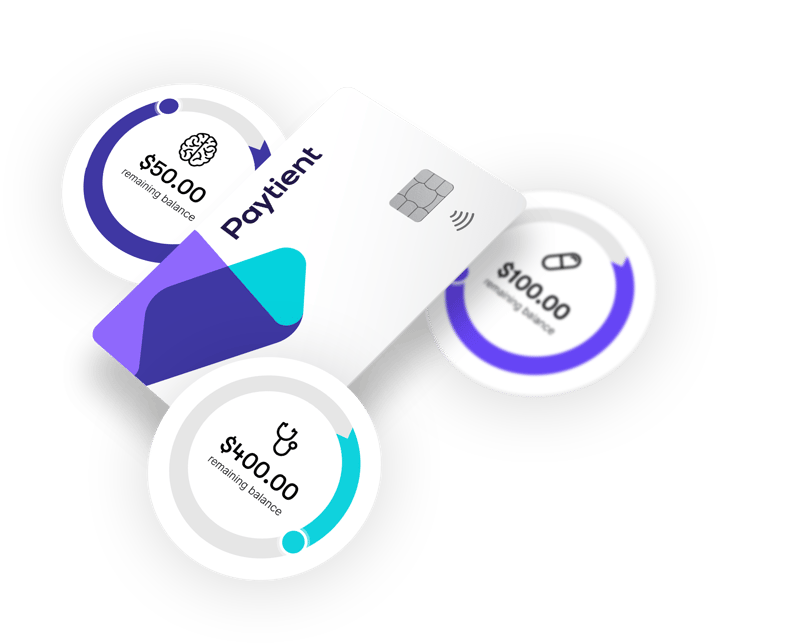 PRICING
Find the plan that works for your employees
Starter Plan
Give your small group of employees peace of mind when it comes to unexpected out-of-pocket healthcare expenses.
---
$500 card limit for up to 10 employees
Automated deductions with payroll integration
Most Popular
Growth
Bring your employees a healthier way of meeting their deductible or paying for larger out-of-pocket health care expenses.
---
$2,500 card limit for each member
Automated deductions with payroll integration
Online chat support
Business
Bring on a tool to help your employees manage their families out-of-pocket health care expenses and avoid financial harm.
---
$5,000 card limit for each member
Automated deductions with payroll integration
Online chat support
Account executive
Enterprise
Custom
We offer custom pricing options for qualifying employers. Please reach out to see how much you could save.
---
Why does choosing a health plan have to be so hard?
You'd be hard-pressed to find someone who actually feels confident choosing a healthcare plan. It's one of those decisions we have to make in life that is almost universally stressful, even for people who seem to have a better-than-average understanding of the many factors involved.
Read More ->
Making the HDHP Healthier for More People
When it comes to health insurance plans, high-deductible health plans (HDHPs) can get a bad rap. The "high deductible" part of the name is enough to deter those worried about rising medical costs. Then there's the widely held belief that high-deductible health plans ...
Read More ->
FAQ
Still have questions? We've got the answers.
What if an employee leaves my company and owes a balance?
Paytient assumes all the risk for the line of credit given to employees. If an employee leaves, we will contact them to figure out the best way for them to continue their payments outside of payroll deduction.
How does Paytient work with tax-advantaged accounts (HSA/FSA)?
Paytient supplements existing HSA/FSAs. We create financial flexibility so members can make the most of their tax-advantaged accounts - often by leveraging Paytient to afford care in excess of their FSA funds, paying for care before they have accrued sufficient HSA balances, and avoid spending down their HSA to allow their funds to grow over time. Paytient also addresses additional care costs that are not covered by FSA or HSAs.
Where can my employees use Paytient?
Your employees can use Paytient at any medical, mental health, dental, vision, or veterinary provider that accepts VISA!
How much does this cost my employees?
Employees pay back what they use on the Paytient card and not a penny more!
Does Paytient require a credit check?
Nope! We will not run a credit check on you or your employees to issue this line of credit for them.
Can employees use Paytient at Out-of-Network providers?
With Paytient, there is no such thing as an "Out-of-Network" provider! Employees are able to use Paytient for themselves or for their families at any care provider that can accept VISA.
As an employer, what do I need to do to implement Paytient?
Paytient seamlessly connects with employers' payroll systems by matching employers' preferred deduction method and following their business-as-usual processes. Allowing you and your HR team to be effortlessly generous this enrollment season.