Become a
Preferred
Broker Partner
Gain access to exclusive content to help bring your clients a new-age total wellness benefit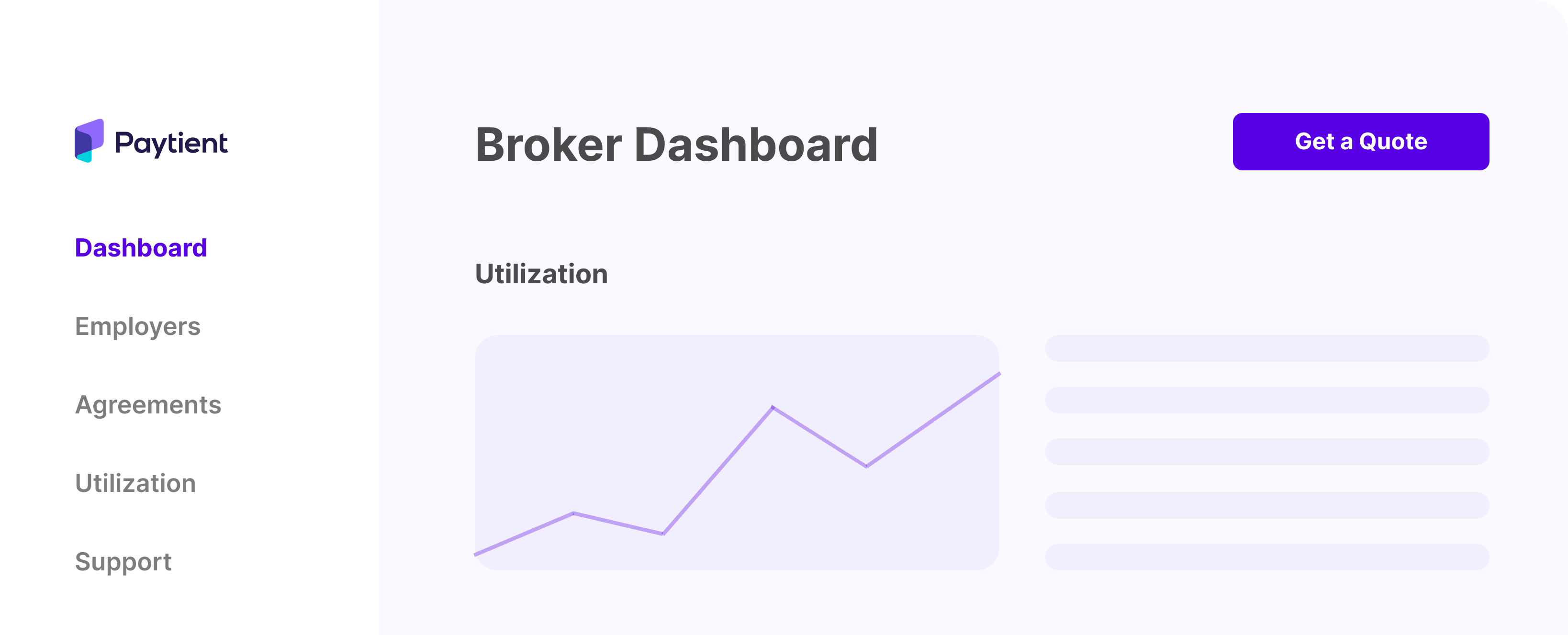 TOTAL WELLNESS
Removing Financial Barriers to Care

Financial Wellbeing
Employees gain access to the ability to pay for all their family's care over twelve months, interest-free

Physical Wellbeing
Decrease delayed care that can cause an increase in large claims for employers.

Mental Wellbeing
Healthy employees are happy employees. Paytient can be used for all physical and mental health expenses - including veterinary care!
Exclusive Partner Pricing
Gain access to exclusive pricing for your clients and Business Block Opportunities
Customized Market Strategy
Your Relationship Manager will help you build a custom market strategy to help you meet your goals
Co-branded decks, marketing materials, and swag for your clients
Enhance your negotiations with carriers to keep clients and employees happy
Exclusive Access to Events
You'll be invited to join Paytient's webinars and social events
Increased Data Visibility
See how and where employees are using Paytient. Use this to help improve your clients existing health plans
"I love bringing Paytient to the table when working with my current clients during renewal meetings or mid-year reviews. Paytient gives employees the ability to get the care they need without the drain on their – oftentimes – already meager savings. It makes plan design a lot easier for my clients knowing that their employees will be taken care of when switching to a HDHP. The best part, many of the employees themselves have told me that they will now sign up for a HDHP knowing they can be covered early in the year. This, ultimately, drives the cost of healthcare down for these employers. It truly is a win-win."
Ben Grimm
HUB INTERNATIONAL
CASE STUDY
Using Paytient to Drive HDHP Adoption
Prior to implementing Paytient, this employer saw that enrollment between their HDHP with no HSA contributions and traditional PPO was split equally.
How did Paytient help this employer increase their HDHP adoption from 50% to 85%?
READ FULL CASE STUDY
BLOG
A High-Impact, Low-Cost Addition to Your Employee Wellbeing Program
It pays for employers to help employees to take control of their health, and take preventative measures to avoid the chronic health issues that affect so many Americans.
LEARN MORE
FAQ
Still have questions? We've got the answers.
What if an employee leaves and owes a balance?
Paytient assumes all the risk for the line of credit given to employees. If an employee leaves, we will contact them to figure out the best way for them to continue their payments outside of payroll deduction.
How does Paytient work with tax-advantaged accounts (HSA/FSA)?
Paytient supplements existing HSA/FSAs. We create financial flexibility so members can make the most of their tax-advantaged accounts - often by leveraging Paytient to afford care in excess of their FSA funds, paying for care before they have accrued sufficient HSA balances, and avoid spending down their HSA to allow their funds to grow over time. Paytient also addresses additional care costs that are not covered by FSA or HSAs.
Where can employees use Paytient?
Your employees can use Paytient at any medical, mental health, dental, vision, or veterinary provider that accepts VISA!
How much does this cost employees?
Employees pay back what they use on the Paytient card and not a penny more! No interest. No fees. No credit check. No, really!
Is Paytient a pre-tax or post-tax benefit?
Paytient's employee payroll-deductions are taken out post-tax. Alternatively, an employee can utilize their HSA or FSA account to use pre-tax dollars to pay for their Paytient balances.
How much effort is required on behalf of the HR department?
We like to think of Paytient as one of the ways employers can be effortlessly generous. Our seamless payroll-integration software means little to no work on the HR professional's side. They can spend more time focusing on what they do best - helping their people.
Can you work with any plan design?
We work well with all types of plans. Employees don't have to stress about those unexpected out-of-pocket expenses when they have Paytient in their phone or wallet.